Practising Implant Dentistry and Self Directed Learning
What We Know, is the Literature Credible?
Scientific literature in dentistry and in medicine is growing at a tremendous rate. Clinicians or academicians can not be aware of all that is published simply because the mass of literature exceeds the limits of understanding.
Consequently our knowledge of scientific literature is often based upon information that is obtained through database searches. Articles are identified through the use of searches that match specific keywords to specific topics.
Clinicians must understand that the credibility of literature, as it always has, depends upon the ability of the clinician to interpret the information that is available in the literature in keeping with the experiences of that individual clinician. Indeed the most pertinent information that any clinician can observe is their own clinical experience. That clinical experience however needs to be correlated with information that is provided in the scientific literature.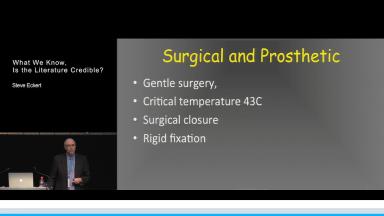 Duration

49 minutes

Source

ITI Congress Southern Africa 2013

CPD/CME

0.81 hours

Purchase price

25 Academy Coins