Prosthodontic Planning and Procedures
Implant Configurations for Fixed Dental Prostheses
The clinician practicing implant dentistry is confronted with different clinical situations, ranging from a single missing tooth, to an edentulous space with several missing teeth, to complete edentulous ridges.
Once a thorough treatment plan is established, different design configurations may be possible for implant-supported prostheses. Each prosthesis design has its advantages and disadvantages.
The prosthesis design must be based on the clinical condition to ensure that the appropriate number of implants are placed in the correct prosthetic positions using implants with appropriate dimensions.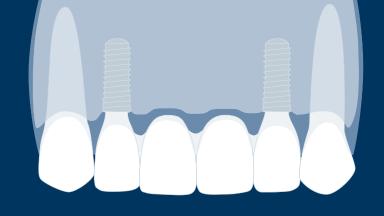 After completing this ITI Academy Module, you should be able to recognize the design configurations for fixed implant restorations in...
single-tooth spaces
short edentulous spaces
extended edentulous spaces
edentulous ridges
Editor

Duration

30 min. + 10 min. for the Assessment

CPD/CME

0.66 hours

Purchase price

45 Academy Coins

Related assessment

Subtitles

English

German

Turkish

Japanese

Russian