Treatment Outcomes and Continuing Care
Ceramic Failure in Implant-Supported Prostheses
Ceramic failure of implant supported prostheses is quite likely the most common complication found in implant dentistry. This lecture explores the reasons for this common complication.
While not all ceramic failures in dentistry are avoidable, many are. This presentation discusses, in detail, how to design restorations to better withstand the forces of function and parafunction.
Complications associated with zirconia implant components is also discussed in detail and the concerns over long-term use of zirconia in dentistry is elucidated.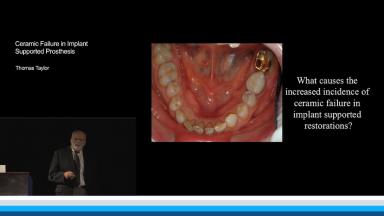 Duration

45 minutes

Source

ITI Congress Italy 2013

CPD/CME

0.75 hours

Purchase price

23 Academy Coins