Treatment Outcomes and Continuing Care
Ceramic Failure in Implant-Supported Restorations. What Gives?
This thought-provoking lecture addresses prosthetic failures related to biomaterials, specifically ceramic and zirconia fractures and material flaws. A focus of this lecture is the zirconia abutment and its interface with the titanium implant neck. The risks of using this kind of approach are addressed, supported by clinical examples, published studies, and the presenter's extensive knowledge of biomaterials.
A comprehensive list of concerns regarding zirconia components is given, as are suggestions for the proper use of esthetic abutments. Alternative methods of treatment are discussed.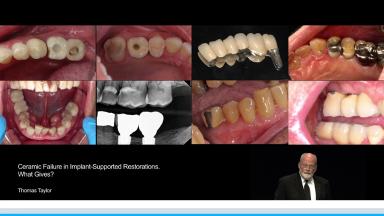 At the end of this Congress Lecture you should be able to…
identify causes of ceramic prosthesis failure
identify causes of zirconia prosthesis failure
list factors that may influence zirconia prosthesis survival
Duration

29 minutes

Source

ITI World Symposium 2014

CPD/CME

0.5 hours

Purchase price

15 Academy Coins