Surgical Planning and Procedures
Transcrestal Sinus Floor Elevation
Following tooth loss, alveolar resorption and ongoing pneumatization of the maxillary sinus may lead to vertical bone deficits in the posterior maxilla.
This deficit reduces the distance between the maxillary sinus floor and the alveolar process, so that reconstructing the vertical bone height may be a prerequisite for placement of dental implants of the correct dimensions and in the ideal three-dimensional position while respecting anatomical structures.
Sinus floor elevation is a predictable procedure for vertical bone augmentation in the posterior maxilla that compensates for inadequate bone height. Grafting material is placed into the sinus to increase available bone height and to facilitate the placement of implants of the desired dimensions and in the correct prosthetically driven positions.
Sinus floor elevation can be performed by lateral window or transcrestal approaches.
This module will focus on the surgical treatment concept and steps for the transcrestal sinus floor elevation technique.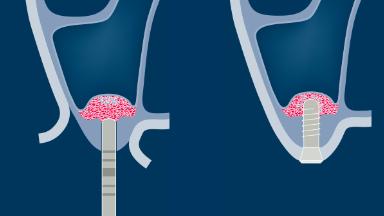 After completing this ITI Academy Module, you should be able to…
list the indications for the transcrestal SFE technique

describe the surgical treatment concept and steps for the transcrestal SFE technique and the prognosis of this treatment

discuss the grafting materials used in the transcrestal SFE technique
Editor

Duration

17 min. + 10 min. for the Assessment

CPD/CME

0.45 hours

Purchase price

26 Academy Coins

Related assessment

Subtitles

English