Introduction to Implant Dentistry
Tissue Integration of Dental Implants
This module focuses on the concept of dental implant integration into the soft and hard tissues in the oral cavity.
Integration into bone is called osseointegration and this phenomenon essentially revolutionized how missing teeth can be replaced.
Osseointegration has implications for all dentists as well as for patients with any missing teeth. Implants are anchored in bone tissue and penetrate the soft tissue.
It is essential to understand the soft and hard tissues around dental implant restorations since only this allows for optimal restorations.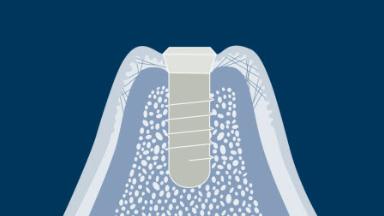 After completing this ITI Academy Learning Module, you should be able to…
define the hard and soft tissue integration of dental implants
discuss how hard tissue integration (osseointegration) occurs
discuss how soft tissue integration occurs and contrast this to teeth
relate effects of different implant/abutment connections on marginal tissues
Editor

Duration

20 min. + 10 min. for the Assessment

CPD/CME

0.5 hours

Purchase price

30 Academy Coins

Related assessment

Subtitles

German

Turkish

English

Japanese

Russian

Spanish