Structured Assessment and Treatment Planning
The SAC Classification 1st Edition
This module covers the original version of the SAC classification. The current 2nd version of the classification is covered in the learning module "The SAC Classification 2nd Edition".
The use of dental implants has become a standard treatment in many clinical situations. However, in order to achieve optimal functional and esthetic results, the clinician has to assess the complexity and risks associated with an implant therapy before starting the treatment.
The SAC classification system differentiates between Straightforward, Advanced and Complex treatments. It was first proposed in a textbook on minor oral surgery for general dentists. In a Consensus Conference in 2007, the ITI reviewed and refined the SAC Classification for use in implant dentistry. The proceedings were published in a text book in 2009 and since then serve as an important tool in implant dentistry.
The fully revised 2nd Edition of the SAC Classification in Implant Dentistry has been updated to ensure consistency with contemporary implant practice.
The new version of the SAC Assessment Tool is also available here.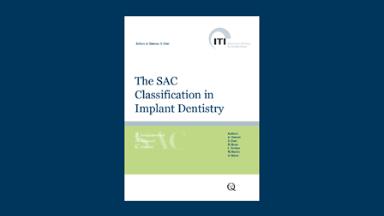 After completing this ITI Academy Module, you should be able to…
indicate the purpose of the SAC Classification
identify its determinants
identify modifying factors
select case complexity using the online SAC Assessment Tool
Editor

Duration

32 min. + 10 min. for the Assessment

CPD/CME

0.65 hours

Purchase price

44 Academy Coins

Related assessment

Subtitles

Japanese

Turkish

German

English

Russian