Surgical Planning and Procedures
Suturing Materials and Techniques
Dental implant treatment requires a surgical procedure to place the implant, and very often it involves additional surgical procedures such as tooth extraction and bone augmentation.
Each procedure creates a wound. For optimal healing, surgical flaps - and often other surgical wounds - must be properly closed with sutures.
Satisfactory closure of surgical wounds and flaps promotes healing and reduces complications such as wound breakdown, dehiscence, and infection.
This module will present the appropriate materials and proper techniques for suturing that contribute to a successful outcome, as well as the improper techniques that can lead to potential complications.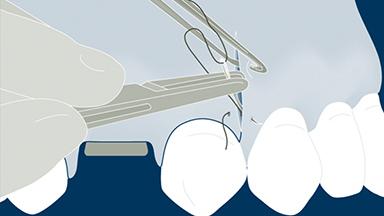 After completing this ITI Academy Module, you should be able to…
describe the different instruments and materials for suturing
describe the principles and basic techniques for suturing
explain the association between improper suturing and complications
Editor

Duration

28 min. + 10 min. for the Assessment

CPD/CME

0.63 hours

Purchase price

42 Academy Coins

Related assessment

Subtitles

Turkish

English

Japanese

Russian