Surgical Planning and Procedures
Simultaneous Contour Augmentation Using GBR
The single tooth replacement with an implant-supported crown is a frequent indication for implant therapy.
In the anterior maxilla, not only does the prosthetic replacement need to re-establish function, it also needs to satisfy esthetic expectations.
To achieve optimal esthetic outcomes, the implant prosthesis must mimic the adjacent natural teeth in color and shape.
In addition, the peri-implant soft tissues on the facial aspect must appear similar to the gingivae of the adjacent teeth in volume, contour, color, and texture.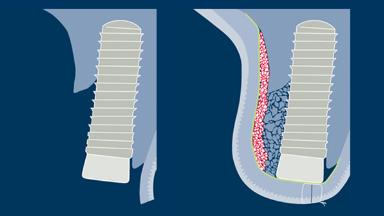 After completing this ITI Academy Module, you should be able to…
explain the rationale for contour augmentation using guided bone regeneration (GBR)
list the materials used for contour augmentation in esthetic sites
describe the surgical steps and considerations that precede simultaneous augmentation
describe the treatment concept and surgical steps for simultaneous contour augmentation
Editor

Duration

42 min. + 10 min. for the Assessment

CPD/CME

0.87 hours

Purchase price

56 Academy Coins

Related assessment

Subtitles

English