Treatment Outcomes and Continuing Care
Managing Biological Complications
Implant treatment is highly successful, as documented in a wealth of scientific literature. However, clinicians should expect to see complications within their daily practice.
Complications that are associated with the surrounding peri-implant mucosa or bone are referred to as biological complications. They occur when there is an imbalance between the bacterial biofilm challenge to the tissues around an implant and the host defense, resulting in an inflammatory process.
The biological complications addressed in this module are the peri-implant diseases referred to as peri-implant mucositis and peri-implantitis, both of which may occur around osseointegrated implants.
Therefore, it is important that the clinician is able to diagnose peri-implant mucositis and peri-implantitis and understand the steps for management of these complications.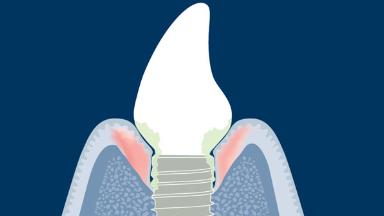 After completing this ITI Academy Module, you should be able to…
diagnose peri-implant mucositis
diagnose peri-implantitis
list the steps to treat peri-implant mucositis
list the steps to treat peri-implantitis
identify the limitations of treating peri-implantitis
Editor

Duration

21 min. + 10 min. for the Assessment

CPD/CME

0.52 hours

Purchase price

31 Academy Coins

Related assessment

Subtitles

English

Turkish

Japanese

Russian

German