Introduction to Implant Dentistry
Implant Designs and Characteristics
Patients desire teeth that are in good health, with good function, esthetics, and phonetics.
When indicated for missing teeth, dental implants are a means to fulfill these requirements.
This Learning Module will outline the implant design features and characteristics that are aimed at facilitating integration with the hard and soft tissues, allowing them to serve as anchorage elements for prosthetic reconstructions whilst also withstanding occlusal loading forces.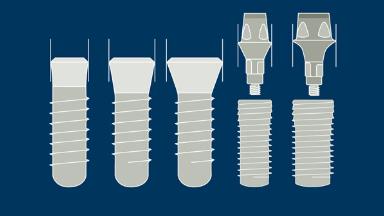 After completing this ITI Academy Module, you should be able to…
describe variations in the implant prosthodontic interface
describe variations in the implant transmucosal section
describe variations in the implant endosseous part
describe variations in implant body materials and surface technology
Editor

Duration

23 min. + 10 min. for the Assessment

CPD/CME

0.55 hours

Purchase price

35 Academy Coins

Related assessment

Subtitles

English

German

Turkish

Japanese

Russian