Prosthodontic Planning and Procedures
Conventional Implant Impressions for Fixed Dental Prostheses
Implant impressions are important for the fabrication of dental prostheses. The aim of implant impressions is accurate transfer of the intra-oral implant situation to the dental laboratory. It is possible to record the implant situation with conventional analog impression techniques, or using digital technologies.
All implant impression techniques employ a variation of the pick-up or transfer impression technique sometimes used in conventional, tooth-borne prosthodontics.
In the case of implant impressions, a precision-made impression component is used to register the position, alignment, and rotational orientation of the implant.
The impression, whether it follows a conventional (that is, analog) or digital workflow, then records this information in relation to the surrounding hard and soft tissues. This module will deal with conventional impression techniques and all of the parameters involved.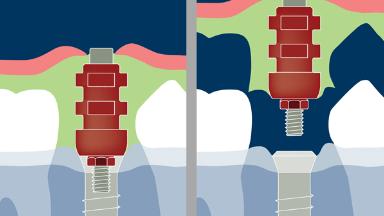 After completing this ITI Academy Module, you should be able to…
define conventional implant impression
list essential requirements of a conventional implant impression
define conventional implant impression components and techniques
outline the workflow of a conventional implant impression
describe the specific impression technique for transfer of custom soft tissue emergence profile of implant prostheses
Editor

Duration

26 min. + 10 min. for the Assessment

CPD/CME

0.6 hours

Purchase price

39 Academy Coins

Related assessment

Subtitles

English

Turkish

Japanese

German