Surgical Planning and Procedures
Tissue Level Implants in the Esthetic Zone – Prosthetic Solutions and Surgical Perspective: the Myth and Reality (Part I)
This lecture presents several viable arguments to support that tissue-level (one-piece) implants have advantages over bone-level (two-piece) implants in the esthetic zone with regard to maintaining satisfactory esthetic outcomes in the long term, provided that implants are placed in a prosthodontically driven manner, respecting the labiopalatal and vertical 'comfort' and 'danger' zones.
Positioning of the implant-abutment microgap away from the bone level is the main reason why tissue-level implants are capable of maintaining stable crestal bone levels over time.
Another important factor is the development of adequate labial bone thickness by utilizing guided bone regeneration techniques at the time of implant placement. This lecture also discusses the effects of the abutment connection and abutment material on crestal bone levels.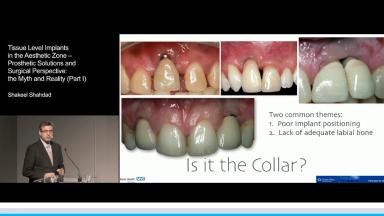 At the end of this Congress Lecture you should be able to…
recognize the effect of implant design (tissue-level/one-piece vs. bone-level/two-piece), abutment connection, and abutment material on the maintenance of marginal bone levels around implants over time
realize that poor implant positioning is a primary cause of esthetic failures, rather than the choice of implant design
understand the importance of guided bone regeneration for stable long-term esthetic outcomes when placing implants in the anterior maxilla
describe the necessary clinical steps in the shaping of a natural emergence profile through the peri-implant soft tissues
Duration

46 minutes

Source

ITI Congress Russia 2015

CPD/CME

0.77 hours

Purchase price

23 Academy Coins