Prosthodontic Planning and Procedures
Prosthetic Planning and Design to Prevent Technical Complications
This lecture introduces the types of risk (mechanical and technical) associated with hardware complications in the implant patient and offers answers based upon published literature on how to reduce them from happening in the everyday clinical practice.
Types of complications found in different clinical situations (edentulous and partially edentulous) are introduced, and a review of the literature is presented to highlight the most common issues and causes.
The lecture concludes with a review of the Clinical Recommendations from the 5th ITI Consensus Conference on how to prevent and manage technical complications in the implant patient.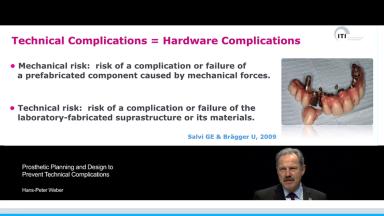 At the end of this Congress Lecture you should be able to ...
define technical risk and mechanical risk
describe the different types and causes of hardware complications found in the implant patient
describe the difference between the maxilla and mandible in association to clinical complications
discuss the difference between past publications and recent publications in reporting clinical complications and their potential causes
Duration

28 minutes

Source

ITI World Symposium 2014

CPD/CME

0.46 hours

Purchase price

14 Academy Coins