Treatment Outcomes and Continuing Care
Managing and Avoiding Complications in Implant Dentistry
Dean Morton discusses how to plan for success rather than failure and how to effectively manage problems when they occur.
The presenter emphasizes how team members must be able to manage the worst possible complications, which may require adding another member to the team who can manage the problem. Avoiding complications means embracing teamwork, a multidisciplinary approach, and effective communication amongst treatment providers to optimize patient care.
The etiology of tooth loss and the goals of therapy provided by the implant clinician are also covered. The lecture includes excellent use of clinical cases to highlight common complications in implant dentistry to include biological, mechanical, and technical complications and how to avoid them.
The lecture concludes with a discussion of careful planning and execution as the keys to successful treatment outcomes over an extended period of time.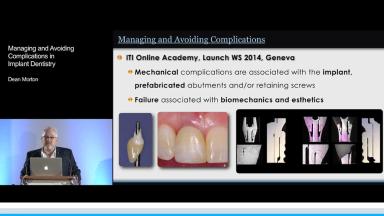 At the end of this Congress Lecture you should be able to…
recognize the importance of a multidisciplinary teamwork approach in reducing the risk of negative patient outcomes
recognize how to avoid complications in implant dentistry and be able to effectively manage them when they occur
recognize that delivering a sound definitive prosthesis involves a systematic step-by-step treatment planning approach to final execution and delivery
Duration

55 minutes

Source

ITI Congress France 2016

CPD/CME

0.93 hours

Purchase price

28 Academy Coins