Treatment Outcomes and Continuing Care
Implant Complications – A Looming Epidemic?
In this lecture, Dr. Chen presents classification of dental implants complications and discusses the prevalence of these complications and which factors contribute to their occurrence. Perioperative complications comprise bleeding, infection, nerve injury and failure of osseointegration. These complications are serious but relatively rare; therefore, the remainder of the lecture focuses on post-integration or post-loading complications, which might be of biological, hardware or esthetic nature. These complications affect the long-term success of dental implant treatment. Dr. Chen also discusses the impact of implant complications, both from the clinician's and patients' perspective.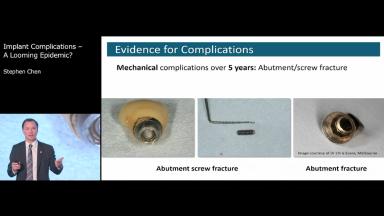 At the end of this Congress Lecture you should be able to…
define perioperative and post-integration implant complications

list the most common post-integration implant complications

describe risk factors for development of these complications
Duration

37 minutes

Source

ITI Congress India 2019

CPD/CME

0.62 hours

Purchase price

19 Academy Coins