Surgical Planning and Procedures
How to Avoid Surgical Complications in Implant Surgery?
This lecture focuses on the causes, prevention, and management of certain complications that may arise during the practice of surgical dental implantology. The complications briefly discussed include: malposition and displacement of implants into anatomic spaces surrounding the maxillary and mandibular bones; hemorrhage due to direct vessel injury or insufficient preoperative evaluation of the medical history; urgent management of hematomas in the floor of the mouth; prevention of inferior alveolar nerve injury; and prevention and management of fractures of the atrophic mandible. It is imperative that dentists are knowledgeable and prepared to react appropriately in the event of surgical complications.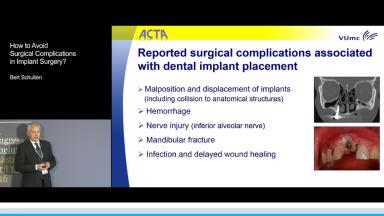 At the end of this Congress Lecture you should be able to…
describe the most common complications in surgical implantology
explain the causes and prevention of common surgical complications
recognize which surgical complications require referral to an oral and maxillofacial surgeon
recognize which surgical complications require immediate admission to the hospital
Duration

37 minutes

Source

ITI Congress Benelux 2016

CPD/CME

0.63 hours

Purchase price

19 Academy Coins