Surgical Planning and Procedures
Case Presentation: Immediate Obturation after Extensive Maxillectomy
Tumors of the maxilla usually require radical surgery resulting in defects reconstructed primarily by vascularised tissue transfer. The main goal of surgery is complete tumour resection while maximizing post-operative function.
This is often difficult to achieve as it depends on several variables:
Tumor size and location
Type of surgical reconstruction
Dental status
These procedures have a major impact on the physical, psychological and social well-being of the patient. Following treatment patients experience severe problems with chewing, swallowing, speech, and facial disfigurement that often lead to social isolation and poor quality of life.
Functional rehabilitation is aimed at restoring oro-facial form and function and to address quality of life. If a vascularised tissue transfer is not possible the use of implant-supported obturators are recommended.
This presentation describes the use of an immediately placed implant-supported obturator to treat a patient who lost part of his maxilla due to tumor surgery.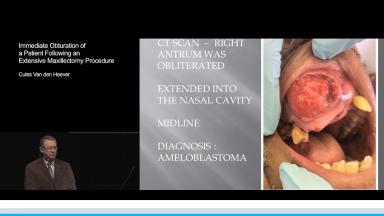 Duration

9 minutes

Source

ITI Congress Southern Africa 2013

CPD/CME

0.16 hours

Purchase price

5 Academy Coins