Surgical Planning and Procedures
Biomaterials for Bone Augmentation
This lecture presents ideal characteristics, advantages, and disadvantages of biomaterials used for bone augmentation in implant dentistry. Available barrier membranes and bone substitutes are presented, as well the new developments in this field. This lecture aims to increase predictability in bone augmentation procedures while reducing complications, number of surgeries, and total treatment time.
Dr. Jensen also presents clinical indications for the various materials to help the clinician to make an informed treatment decision and to improve outcomes.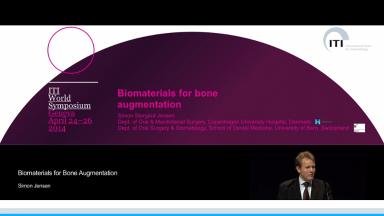 At the end of this Congress Lecture you should be able to...
list the different biomaterials used for bone regeration in implant dentistry
identify the ideal characteristics of materials used for bone regeneration
recognize advantages and disadvantages of the materials used for bone regeneration
Duration

28 minutes

Source

ITI World Symposium 2014

CPD/CME

0.47 hours

Purchase price

14 Academy Coins